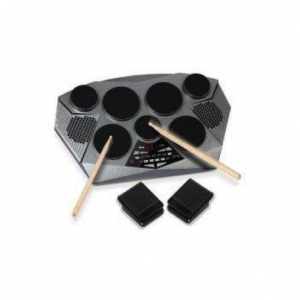 $159.99
It's compact and portable with a lot of built in songs, drum kits. You can also save records, save as well as edit your recordings. You can also make your own music by connecting it to the computer. It has a learn mode to help beginners learn. It comes with a foot pedal and drum stick. You can use a battery to make it work. You can also check this out if you're looking for Pelican Case Alternatives.
Pros
Its quality is very good.
Its touch sensitivity is working well, their cymbals has good effects.
The speaker that is built in is loud
Cons
The foot pedals are too light. When you step on it, it could move around.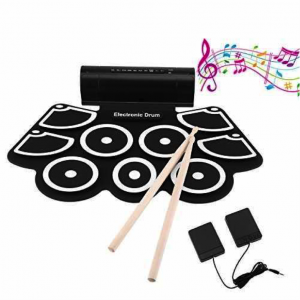 $64.99
It has thick drum pads and feels more realistic compared to other products. It can also be brought around easily because it folds quickly and is compact. It has a built in speaker, but you can also insert your headset so you can play while not disturbing other people around you. You will enjoy this even if you are a professional or a beginner because it feels real but is easy to bring around. It comes with percussion sound modules, expressive music, learning sounds, and you can record and play when needed. It's price is not too expensive so if you are still testing the waters you can start with this instrument.
Pros
It's not expensive but it's valuable.
It could fit anywhere so it's ideal for people living in an apartment or doesn't have an area for a drum set.
You can use it in a lot of different ways.
Cons
It's not really for professional recording, but given the price it's not a bad deal.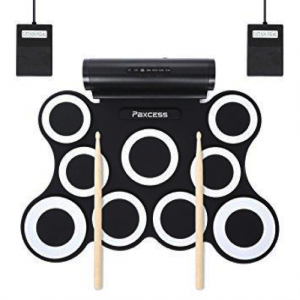 $89.99
This is an upgraded version that offers a more realistic sound. It has 9 touch sensitive pads that allows that. When you use this, it would be like using a real drum set because of its sensitivity. There are many styles that you could use this with like, pop, rock, electro. It has a dual bass speaker to give you a better effect compared to others in the market. But if you need to play quietly it has a headphone jack available. You can also connect this to your computer to play drum games. Choose or buy a Student Drum Set with excellent quality. It's battery is rechargeable and you can use a fully charged one for up to 8 hours. Having this type of power makes it usable even in places where there is no outlet. It comes with a roll up design to make it easy to carry around and save space.
Pros
It comes with everything you would need from a real drum
The volume could be adjusted and the sound coming from it good.
It has a headphone jack to make it possible to play discretely.
Cons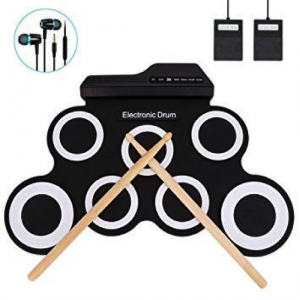 $52.99
This electronic drum set has everything you would need from a drum. It provides you with a very clear sound because of its audio transmission technology. It has an headphone jack to make practicing private and for late night practices. When you need to keep it, you could easily roll it up. It's also inexpensive so you don't have to worry so much when you give it to your kids so they could see if they are really interested or if it's just a phase. Check out the

Best Portable AMP

for a better live sound.
Pros
It's very compact and has a nice design.
It's very convenient to set up, you just need 2 AAA batteries, a speaker or a earphones.
Even if it's a small device, it gives off a good sound quality.
Cons
It has no speakers that's built in.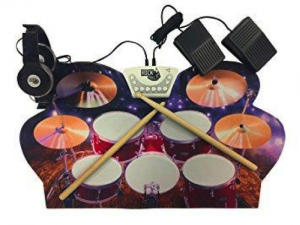 $79.99
This drum is easy to keep and is flexible. You can easily roll this into it's container whenever you're done using it. You can use batteries or a USB which allows you to play it anywhere anytime. It comes with different drum sounds, demos, tracks, and allows you to record and listen to your work.
Pros
It's sound quality is amazing
It comes with amazing free headphones
It's made smoothly
Cons
It's size is smaller than usual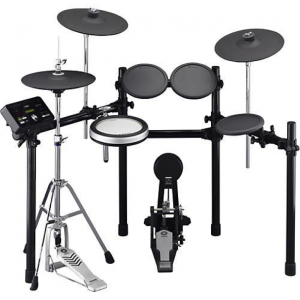 $999.99
This one would be the most priciest of them all but that's because it's a more high end type of electronic drum set for people who are really interested in playing the drums and professionals. It comes with more than 681 HQ drum sounds and a XP80 2zone snare had, a rim shot and side stick. To make it feel more realistic, it has a hi-hat system too. Find the ideal strings of your guitar in the Phosphor Bronze and 80/20 Guitar Strings.
Pros
It has a 3zone cymbal that works amazing and an amazing brain. This is a well thought and engineered device.
Cons
It's a bit expensive but still worth the price.
Conclusion
Choosing an electronic drum set isn't really hard as long as you know what you need and what you are looking for. Electronic drum sets aren't replacements for the acoustic types, neither is it a quiet version. For the best quality, visit the Best Kids Acoustic Guitars. It's a device that's ideal for practicing, and learning new things about your creativity. If you're looking into drums for a child we also have the best drum set for kids or drum set for teenagers. Starting them young would definitely make a difference. Which is better, Electronic-vs-Acoustic?